If you have trees in your yard, you know that taking care of them is important. Not only does proper care keep trees healthy and looking attractive, but it also reduces the risk of fallen limbs that can cause injuries or damage to your property. That's when a tree service business comes in handy. Castillo Landscaping and Tree Service offer a full range of services that will keep your trees looking their best, while also protecting your home and yard. Read more about them below.
Tree Trimming
One of our most valuable services is tree trimming. Regular trimming is important for keeping your tree shaped as well as healthy. It's not usually a good idea to trim your trees yourself as there are safety risks involved and we can help. That includes shaping the tree, but we can also remove dead or dying branches and any limbs that are damaged or broken.
Tree Pruning
Pruning is a bit more labor-intensive and involved than tree trimming. It usually means trimming interior branches and keeping your trees healthy. Over pruning or doing the job improperly can result in damage to your tree, even causing it to die. It's always better to let the professionals take care of it for you. We can also prune and trim palm trees if you need it done.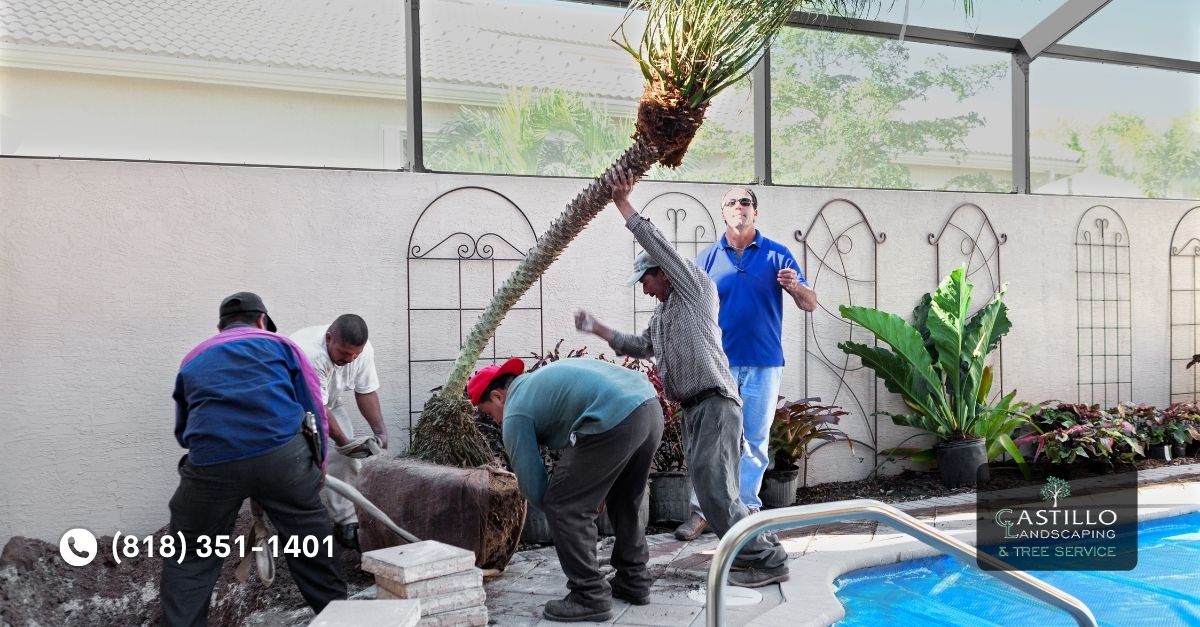 Tree Removal
Sometimes a tree needs to be removed completely. That includes if it's sick or dying, but also if you simply don't want it. Tree removal can be quite dangerous and involves more than simply chopping at the base. There are safety steps required to be sure it comes down without hurting anyone or damaging your home or vehicle. We can make sure it's done quickly, safely, and efficiently.
Stump Removal
Stumps can be an eyesore, but they can also be a danger to anyone walking on your property, especially if they aren't obvious. Stumps can also spread pests or diseases to the other plants in your yard and may even be compromising the foundation of your house. We can get rid of them for you so you have a smooth surface for landscaping and so you don't have to worry that anyone will trip over the stump and get hurt.
Landscape Work
Not all of our services have to do with trees. We also provide other landscaping services for your outdoor space. That includes designing and constructing new landscaping on your property, from creating paths to planting shrubs and flowers, we can help you get just the look you want in your yard. If you're happy with the existing landscaping, we can help you manage it by performing tasks that include seasonal cleanup, mowing, edging, weeding, fertilizing, mulching, and irrigating.
Getting Started with a Tree Service Business
Are you excited about everything that a tree service can do for you? Not only does it take some of the work off your to-do list, but you can be sure that each task is performed correctly and safely. When you're ready to get started, call Castillo Landscaping and Tree Service and we'll give you an instant quote.