Have you ever wondered whether trimming your trees is your job or if you need to contact a professional to get the job done? It turns out the answer isn't as simple as that. There are some cases when it might be up to you, and others when the county is responsible for it. So who should be taking care of Los Angeles County tree trimming? Castillo Landscaping and Tree Service can help you determine who needs to have the work done and we can do most tree trimming jobs for you. Keep reading to find out more?
Trimming Trees in Los Angeles County
Trees that are on public property usually fall to the county to maintain and take care of. Different entities take care of the trees in various parts of the area. For example, the trees you see between the curb and sidewalk in unincorporated parts of the county are cared for by the Public Works Road Maintenance Division. Trees that are blocking power lines are the responsibility of the Los Angeles Department of Water and Power. If there's a tree that you've noticed poses a safety risk or may need some attention, you can call the county and they will direct you to the right department, depending on the location of the tree.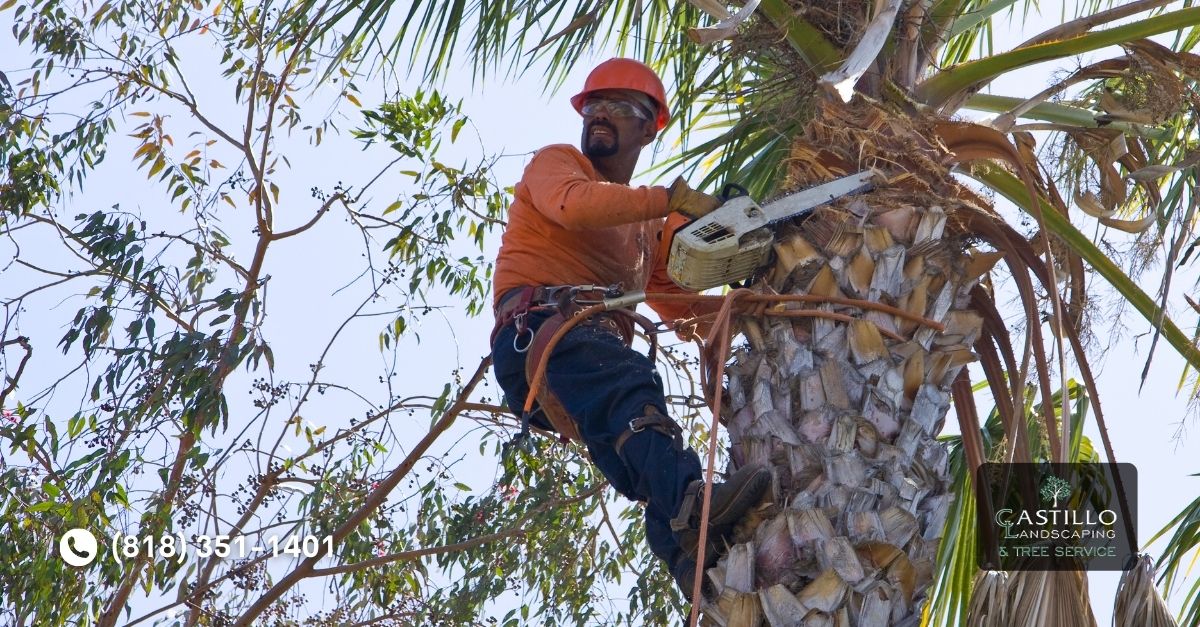 Can You Trim a Tree Yourself?
The standard procedure in Los Angeles County is to obtain a permit before trimming a tree. It's illegal to do so without a permit. That includes cutting down a tree. This applies to trees that are not on private property. We are available with a full range of tree services to help you get rid of an unwanted or dead tree on your property. There are exceptions to the permit rule. If there is a dead or potentially dangerous tree near you, you generally do not need to wait to get a permit to take care of it. Tree trimming can be dangerous, so it's usually better to call one of our experts rather than attempting to do it yourself.
Trees on Private Property
While a permit is required to remove a tree on public property, you won't need one to get rid of trees on your private property and tree trimming also falls to the property owner. If you have a tree that is dead or dying or that you no longer want in your yard, we can safely get rid of it for you, including the stump. We can also trim and prune the trees in your yard. Again, DIY tree trimming is not recommended as there's a process that safely brings the tree down so there's no risk of injury or damage to your property. Unless you have the tools and experience, it's always better to call our experts when you need to get rid of a tree.
Who to Call for Los Angeles County Tree Trimming?
It's always best to leave tree trimming to our experts, who have the necessary training and experience to get it done properly. If you live in Los Angeles County, the trees on your property are your responsibility. When they need to be trimmed, call Castillo Landscaping and Tree Service for an instant quote.