Palm tree removal is not as easy as the majority ought to think. If you fail to undertake the necessary steps, you might end up with a mess in your yard. This way, you are urged first to obtain all the required information about the removal process if you are going to undertake the process on your own. However, if you feel incompetent to oversee the process, you can still hire an expert who can make the work easier for you. Removal of a palm tree at some point is necessary to avoid more damage to your property. Here are some common aspects that can assist one who wishes to take charge of the removal. Check below  to guarantee quality results.
The Permit Application is a Requirement.
You can never undertake palm tree removal if you lack a permit. Most people fail to understand this subject and end up being on the negative side of the law. Various cities have prohibited tree felling without a permit as this process may bring hazards to property or people. If you feel like the process of tree removal permit application is tiresome, you can decide to hire an arborist who will ease the requirements for you. Most arborists have permits that allow them to undertake the tree removal, enabling you to move on with your daily activities progressively. If the removal process poses no threat to people, you might need to consider focusing on the area's requirements. The fact that various counties tend to have different rules governing tree removal clearly explains why you may encounter ease if there are no external threats to tree removal. A permit application might aid in all the other recommendations that are likely to follow if you are after tree removal.
Observe HomeOwners Insurance Policy
After obtaining the permit, you are clear to move on to the palm tree removal; however, you will still need to focus more on the insurance factor. Focusing on the insurance policy will help you beware of what is covered in your home, and you can decide to progress with the tree removal with the assurance of the cover. Palm trees growing up to a length of 197 feet clearly illustrate the potential hazards you can obtain on your property if you decide to undertake tree felling. Checking the insurance policy might ease your financial strain in case you experience an accident when the process is underway. If you are sure of the comprehensive coverage, you can always experience ease as you will be reinstated to your financial position in case of an accident. By focusing on this and being aware of your insurance coverage, you can decide if you can solely undertake the removal or focus on seeking an arborist.
Palm Tree Removal Necessitates Waste Planning
After focusing on the insurance and finding an alternative way of removing the tree, taking time to figure out where to throw  the waste might be important. Not all people plan for garbage and experience a surprising amount of waste in their yard. This can cause air pollution if left without care, and seeking the right plan before removal might be the best idea. The fact that you can consider turning the waste into manure allows you to dispose of the palm tree waste easily. Removing trash is not easy and making early arrangements is important in handling the possible mess in your home. You need always to take time to decide the perfect place to put the waste in your garden if you intend to use the manure. Decomposition might speed up the waste use, and you can be assured to put it into action soon if you plant crops or plants.
Use the Right Equipment
Unlike other trees, palm trees are tall and lack branches, so you will require guy ropes and an electric spade to be used in digging them out. Focusing on body coverage is also important, so you must also observe seeking gloves, safety goggles, and sturdy shoes. This can facilitate the removal process due to ease in process handling. It would help if you also played for tools that may be used in undertaking the removal. Common tools include an ax, chain saw, reliable ladder, and safety harness. If you have all these items, then you can be sure to begin palm removal. With this equipment, you can be sure to experience tranquility if you are aware of the removal process.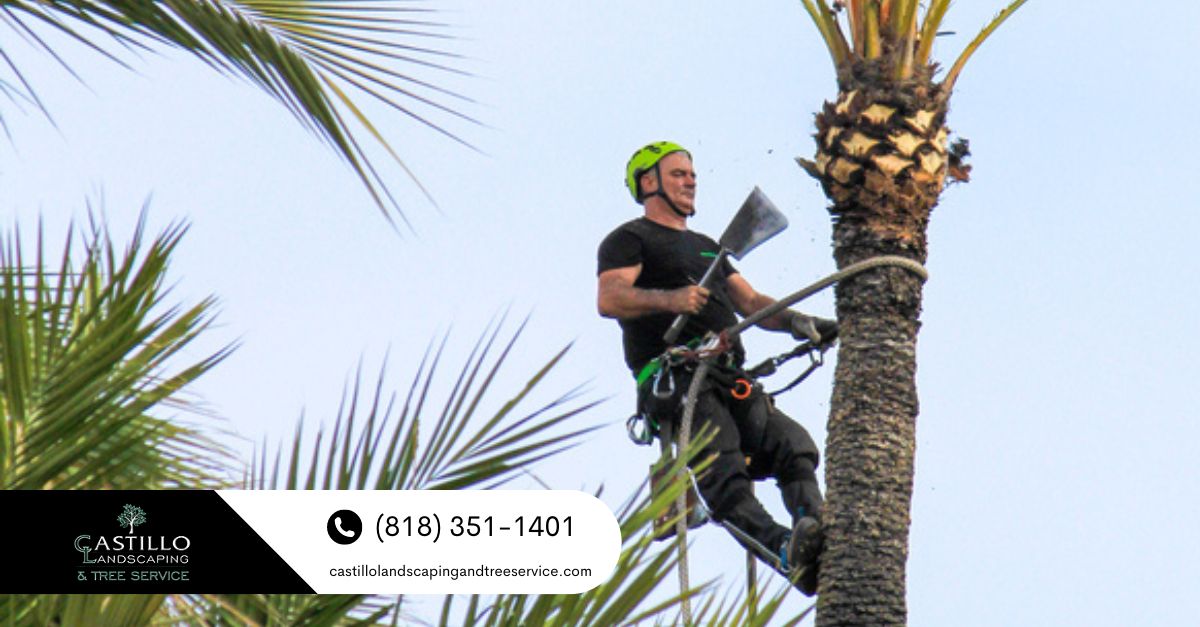 Trimming the Fronds
You also need to be aware of how to trim the fronds to avoid damage. If you have a bigger palm tree, tree felling might be challenging, and thus you need to remove it in sections. Trimming the fronds back might be one way to remove them in small volumes. You might need a ladder, chainsaw and loppers. You should also avoid cutting fronds that are above you to avoid accidents. By focusing on the above subjects, you can experience peace of mind if you intend to undertake palm removal.
If you want to enjoy professional palm tree removal, then you need to hire the right company. Castillo landscaping and tree service is one of the most notable firms that have been accredited for its tree removal services. You can access them by calling (818)351-1401 for fast hand service delivery.