Are you looking for tree care in Southern California that serves, well, all of Southern California? That's something we take great pride in. So many say they serve "all over Los Angeles," but then, you find out that it's actually nowhere near "all over." We offer tree care in Pacoima, West Hills, Valley Village, Hollywood, Sherman Oaks, from Studio City to Agoura Hills, Santa Clarita to Thousand Oaks and so many places in between. For more than 25 years, we've provided the best professional service as well as prices for our customers. 
Landscape Management 
"Tree care" often goes along with managing landscaping. Some of these services are ones that you could perform yourself, or alternatively, have someone do for you. But, to go that route, you're invariably paying more money for an inferior job. For example, we offer mowing, edging, mulching, and weeding services as part of our landscape management. Our equipment is far, far more advanced than the typical lawnmower or mulcher. Beyond that, our landscape management pros have years of experience. We're proud of the relationships that we've forged with our customers over the years, as folks have come to rely on us for their landscape management and tree care year in and year out.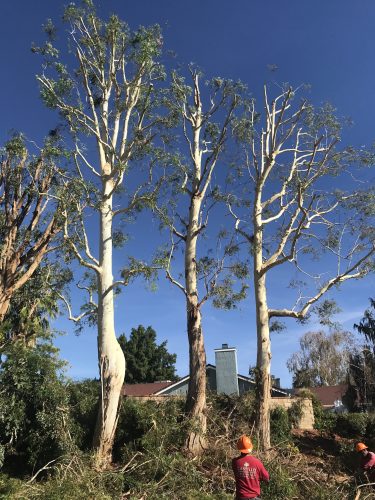 What Tree Care can Consist Of 
Trees, like us, can get sick and weaken. When they do, like us, it can be difficult for them to stay upright. As you might imagine, that poses an incredible health risk for anyone who should come near these trees. No one's ever prepared for a tree branch (or more) to fall on them. That's why tree trimming is so important. We've trimmed so many trees so that they're healthier, look better, and are far, far safer. Sometimes, when necessary, we can remove trees as well. When you reach out to us, we'll lay out what your options are. 
Pre-emptive Care 
Over the last two-plus decades, we've been with many customers through the lives of several trees. We removed their trees, they planted new ones, and then we trimmed and maintained them. We can absolutely be there to help in an emergency. However, to the extent that it's possible, the best thing to do is to reach out to us before there's an emergency. If you sense or even have a feeling that there's something wrong with one or more of your trees, reach out. We can let you know what's really going on, and whether or not appropriate action should be taken at this time. 
Tree Care in Pacoima and All Over Southern California 
You'll note that the name of our company is "Castillo Landscaping and Tree Service." It's not "Castillo Landscaping and Oak Tree Service" or even "Castillo Landscaping and Palm Tree Service." Our tree care covers so many different kinds of trees. Whether it's palm trees or anything else, our experts know how to improve their aesthetic beauty, their health, and everything else so that they're exactly what you want them to be. For a free estimate: (818) 806-0488.