Is your backyard looking a little too cluttered? Are there trees and branches that are starting to cause some problems? If so, it might be time to consider using a tree removal service. The felling of trees is one of the most effective ways to clean up your property and make it seem more organized. It is also a good idea for reasons relating to safety, as overgrown branches pose a risk if they fall on someone or something and cause injury. 
Taking down trees on your property may be a difficult and time-consuming endeavor. It is not a task you should attempt to do on your own unless you have the necessary equipment and the relevant expertise. A service that removes trees is what you need in this situation. The following are some of the reasons why every homeowner needs to give serious consideration to employing one:
Safety
Not all trees are our allies. Their house may have suddenly collapsed or been damaged by fire, forcing them to find temporary housing. Since you own the land, you get to make the ultimate decision on whether or not the tree stays. A focus on security is paramount. It would be best to use the utmost care when removing a massive tree from your yard. Only trained experts with the proper tools should attempt a repair. Professionals have the training and equipment to get the job done well. 
They know which trees are healthy and which require special care since they might pose a threat. They will know whether the tree needs to be braced for removal or if it is better off being cut down. Also, they will be able to survey your property and determine whether or not any other trees will be affected during the work or if any property will be at risk from falling branches or leaves. The trees will be removed safely, without damaging your home or belongings, and the site will be cleaned up afterward.
Time-Saving
It is often believed that if one is physically capable, all necessary to get rid of a tree is simply cutting it down. But alas, that is not always the case. The tree might fall on your house or neighbors' if you don't know what you're doing and if you cut too deeply into the roots, for example. You can end yourself in harm's way and with a mess on your hands. It might cost you hundreds of dollars in repairs and higher insurance rates (which can add up quickly if you submit several claims). 
A professional tree service will have the tools and expertise to remove your tree without causing any damage to your property. In addition, they are covered by insurance in case an accident occurs. The most significant aspect of hiring a tree removal service is that they will take care of everything for you, including bringing their equipment and clearing up after themselves. There is zero effort required on your part!
Experience in Tree Removal Service
Experience is one of the most critical factors when choosing a tree removal service. Companies specializing in tree care have been doing this for decades. They are equipped to deal with jobs of any scale and any trees. Companies like this can handle the removal of trees of every size, from pencil-thin ones to those as broad as telephone poles. They have easy access to all high-quality tools that ensure their productivity and safety on the job. 
Tree removal is just one of many services that may be provided by a company that specializes in trees. They can advise you on which trees would be best for your yard, where to place them, and how often to prune them. This may help you get the most out of your trees, whether you're after shade, fruit, or aesthetic value. Hiring a professional tree removal service will guarantee the task is done without incident and save you time and effort.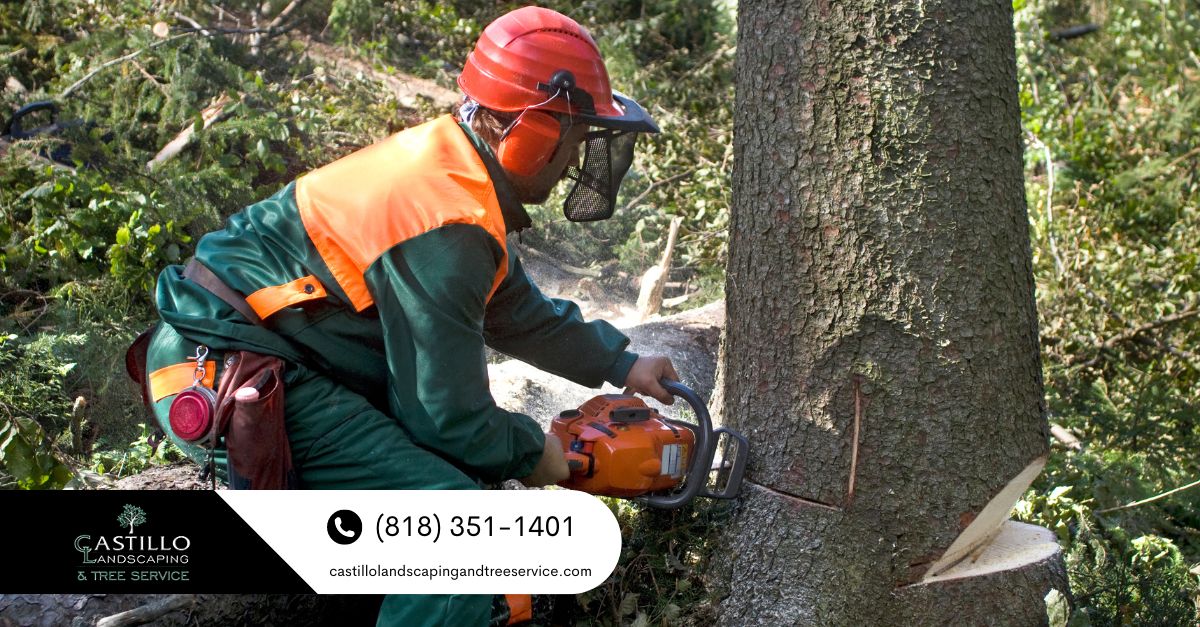 Insurance
It's a sad but more prevalent fact of modern life that if you own a house, you presumably also have renters' or homeowner's insurance. That isn't always terrible, but it does imply that if anything goes wrong with your property, you'll probably have to pay a hefty penny to fix it. Let's imagine your pet manages to gnaw through the screen door and escape into the backyard, where there's a rotting tree. Your fence and the neighbor's garage take serious hits as the tree topples down.
As the property owner, you are on the hook for the cost of repairs. If this ever happens to you, there are affordable tree removal services to help you. They'll check it out, and if it seems like you're responsible for the damages, they'll take care of chopping down the tree and fixing up the harmed property. Thus, none of this will financially strain you or your loved ones.
Trees are essential to landscape design, but they need regular maintenance to stay healthy. If you want to preserve the look and functionality of your landscape, then you should consider giving our experts at Castillo Landscaping and Tree Services a call today at (818) 351-1401.