Are you looking for landscaping in Pacoima ideas that will suit your home and budget? You've come to the right place! This article will discuss a few landscaping concepts that might work well for homes in Pacoima. You, as a homeowner, recognize the significance of your property's landscape. Improving the curb appeal of your house might also increase its resale value if you ever decide to sell. 
You've found the ideal spot to get some inspiration for landscaping in Pacoima. Pacoima is a desirable area in Los Angeles for new homeowners due to its low property prices and rapid development. The neighborhood may be rough around the edges, but sprucing it up with some plants may make your new house seem more like a refuge. Start with these suggestions!
A Desert Landscape With Cacti And Rocks Is Perfect For Those Who Want Something Low-Maintenance.
Why not try something altogether new if you are looking for a landscape design that is more imaginative than the standard grass and flowerbeds? One example of an alternate kind of landscaping in Pacoima that is both inventive and requires little in the way of upkeep is a desert landscape. Cacti are an excellent option for anybody who wants to add some greenery to their yard without incurring the cost of grass, and cactus plants may be purchased for a reasonable price or grown at home for a low cost. 
There is also the option of utilizing rocks as your "plants" rather than real live plants; whichever atmosphere you're going for, there are certain to be a few pebbles that can help you achieve it. It is an excellent choice for those who desire something that takes very little effort but yet seems to be of high quality. It is possible to construct a desert environment on a budget by utilizing the rocks and plants that are native to the area.
If You're Looking for Some Privacy, Consider Planting a Tall Fence or Hedge Along Your Property Line.
You have many options available to you, one of which is to plant a thick hedge around the perimeter of your yard. This will instantly prevent any visitors from seeing what is on the other side of the yard. The hedge, for the most part, offers seclusion all through the year; nevertheless, during the summer months, it may need a little bit of pruning in order to maintain its appearance of being clean and tidy. 
You may also decide to include a fence in your landscape design, which will raise the amount of seclusion even more than a hedge alone could give. This option is available to you as an additional design option. It is important to keep in mind that if you want your yard to be completely private, both hedges and fences will need to be maintained on a consistent basis (including being trimmed and painted) in order to continue looking their best.
A Landscaping in Pacoima Garden with Lots of Flowers Is Perfect for Families Who Love to Spend Time Outdoors
It's lovely to have a lush garden, but if it's going to be the focal point of your yard, you should give it some careful consideration. In the house, some homeowners may like a formal and classic look, while others may prefer something more relaxed and contemporary. Make use of your spacious yard by planting a lush garden full of beautiful vegetation. Families that like spending time outside would benefit greatly from having a garden like this. 
One who enjoys the neighborhood's aesthetic benefits from flowers might likewise benefit from this. Flowers bring color and beauty to your yard, and they also attract pollinators like bees and butterflies because of their attractiveness and fragrance. Although the initial outlay of labor and resources (in the form of purchasing seeds or seedlings) is high, the resulting floral beauty may be enjoyed for many years and, with careful maintenance, can even expand in size.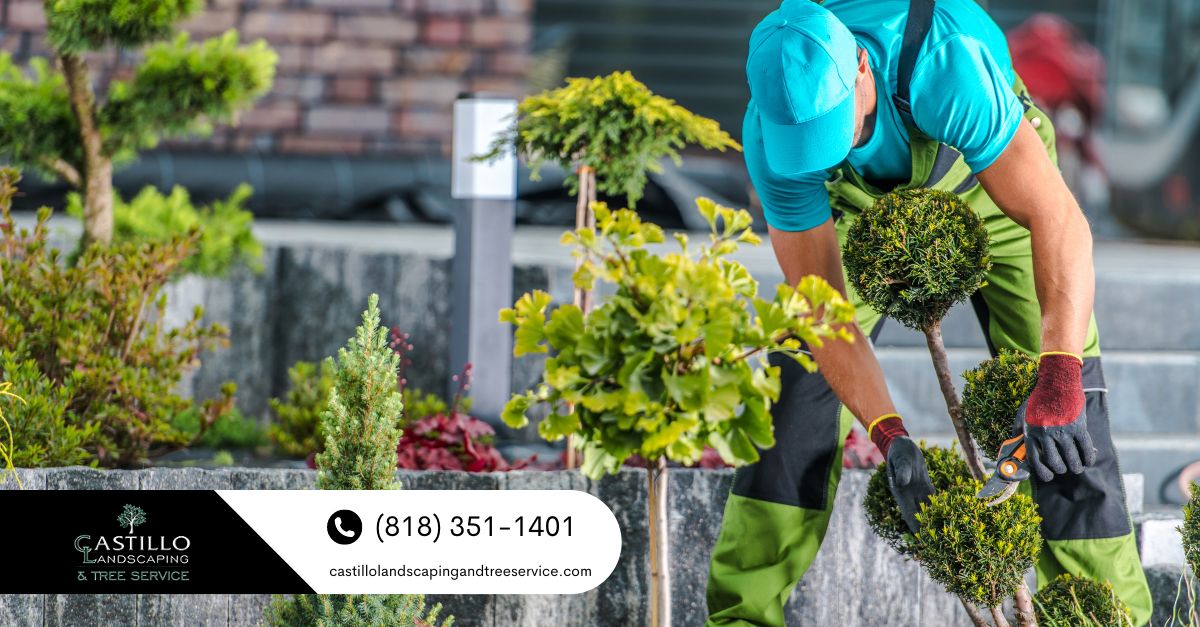 A Pond or Water Fountain Can Be a Beautiful Addition to Any Backyard
Palms, bamboo, fruit trees, and blooming plants are just a few of the varieties that thrive in this region. If you want a garden but don't want the upkeep, a patio made of bricks or paving stones may be installed in your backyard instead of conventional dirt. If you don't feel like building your own planters, you may always buy store-bought ones. Flower arrangements in pots and vases are another low-maintenance method to bring color and vitality to your patio. Putting up some lights, particularly solar-powered, motion-activated lighting, may really perk up a drab space. They shine exactly where you need them to at night, making them ideal for that purpose. To begin making your backyard into a haven, all you need is one of the many great ideas or suggestions in this post.
Castillo Landscaping and Tree Services is the solution to all of your landscaping in Pacoima needs! We can transform your backyard into a beautiful, functional space. Contact us today at (818) 351-1401.