Are you wondering how you can have a new living environment in your current location? There are new means that landscaping Los Angeles service providers have adopted to ensure that you are comfortable. There are some common benefits of adopting landscaping services, which can explain why people have consistently sought experts for their landscaping services. You ought to understand the various landscaping services. The listed are some of the areas that prove the need for adopting landscaping services in your home.
Boost General Appearance
One common reason why several individuals have undertaken landscaping services is the need to boost garden aesthetics. With landscaping Los Angeles experts, you are assured of bush clearing and putting land to more use. Aspects such as re-edging the garden and pruning trees are all essential in promoting beauty in your home. The one necessary move you need to be aware of is selecting the right flowers and planting them in the right location. It could work if you, to capture the appeal of your home, enhance the look by incorporating some appealing plants and flowers. This is one thing that most customers have observed to achieve a more pleasant surrounding through landscaping services. A pleasing surrounding will always be physically and mentally pleasing and relaxing, which might explain why many people have been urged to consider landscaping services in their homes.
Enhance Outdoor Usage
A house with quality outdoor space will always be considered of more quality in the market. This is where people are more observant and tend to rate their homes based on the possibility of experiencing quality moments. By undertaking landscaping services, you can create a space that will allow for the all-night activities you wish to experience. More and more people have adventured themselves to adopt such services to better their homes, and anyone who has tried so can attest to the lovely change in their routine. Outdoor activities are essential in boosting a happy healthier life. Research has shown that activities outdoors improve cognitive function and reduce stress levels. Freshly mown grass tends to create a play space for children, and you can be sure to enjoy a worthy time with your family. Make sure to enjoy your family time by stepping outside more and incorporating landscaping services in your home.
Control of Invasive Plants
Anyone who gets to think of landscaping probably has an idea of controlling weeds and other unwanted plants in the yard area. Landscaping Los Angeles experts have the best remedy if you ever wish to prolong the blooming of your yard. With the right plant care, you can be sure to suffocate unwanted plants through the induction of helpful chemicals. You can alter soil PH levels only to suit the type of plants you wish to keep. With the right expert help, you may be able to control these plants, and you can be sure to thrive by creating a more suited landscape for you and your needs and wants. Without the presence of weeds and other unwanted greenery, you may grow robust plants as well as improve the quality of air. Having more of certain particular plants and species can also help you control floods during rainy seasons.
Landscaping Los Angeles Can Act As A Creative Link.
Art can be expressed in various forms. While many people focus on painting, you can achieve a different form through gardening. Landscaping Los Angeles has allowed most people to express their desires by adopting garden art. This is a form where you can use plants to visualize your art. More people have been able to use outdoor activities as a stress reliever and to ease complications with their daily lifestyle. Landscaping might have become a good way to embrace your creativity. With the help of the right personnel, you can be sure to use landscaping services to visualize new projects. You must ensure that your grass remains vibrant green and lively during its lifespan. This will better their state and assure that they thrive even in the changing weather conditions.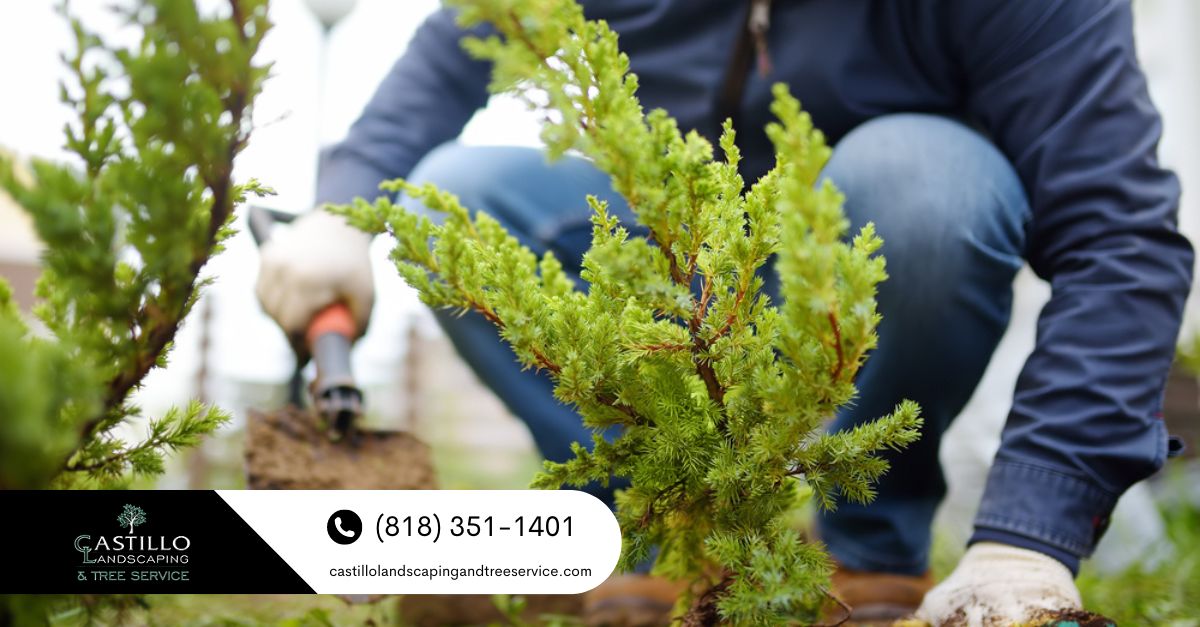 Security Focus
This is also another point, you always need to observe the safety- aspect. When you are looking for landscaping in Los Angeles, you want to be safe in your home. This is because you are assured of scaring away small rodents through regular landscaping services such as grass mowing. Mowing grass will keep away small harmful; insects as well as snakes. You can also remove objects that might hinder movement or, even worse, cause accidents. This has become one area where people pay the most attention.
The above are some essential areas in which people have been encouraged to consider landscaping Los Angeles services. But you may only benefit from the above if you undertake the right selection. Make sure you contact Castillo Landscaping and Tree Service through (818) 351-1401, so you can always secure excellent and top landscaping services. Ensure to do this if you ever wish to enjoy appealing surroundings.